RI Paving And Sealcoating
Repair ugly cracks and uneven driveways and parking lots
Ensure your home or business remains looking like new with our trusted paving services. You'll love the improvement Patch It Paving's affordable prices and quality work provides your driveway or parking lot. Your satisfaction is guaranteed.
Choose Patch It Paving's reliable contractor services
Whether you need asphalt construction, excavation and removal, or trucking and bobcat work, our 25-years of experience can handle your residential and commercial paving projects. Call us today at 401-996-6090. You won't be disappointed.
Protect your paving investment with our expert sealcoating application
Guarantee your new driveway or parking lot lasts for years to come with our sealcoating services. Our expert paving technicians apply a protective coating that provides defense against winter cracking, UV rays, and traffic. You'll be happy you called.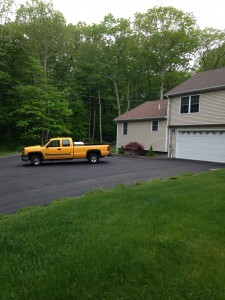 Enhance your home with our residential paving services:
New asphalt construction
Stone driveways
Excavation and removal
Sealcoating and crack filling
Trust our commercial paving services for your business:
New asphalt construction
Excavation and removal
Small to medium parking lots and driveways
Sealcoating and crack filling
Pothole repair
Line striping
Trucking and bobcat work
References upon request.
Enhance your home with a new driveway. Call Patch It Paving today at 401-996-6090 to schedule your paving appointment, and guarantee your satisfaction with our affordable prices and quality work.